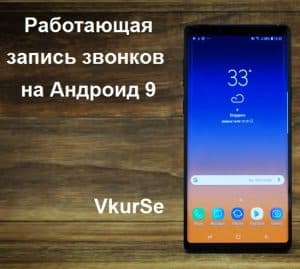 Recording conversations on Android 9 is one of the features of the multifunctional program VkurSe, which allows you to fully control your Android phone or tablet. We answer in detail the most exciting questions.
What record works on Android 9?
Our VkurSe program was developed almost 10 years ago, but with each update of Android it will be improved and adapted to new versions. Today it is a really working program for Android 9 - recording calls allows you to listen to both interlocutors. In addition, you will receive a detailed description of all calls (incoming, outgoing, missed, made via the Internet).
Using our program, you can receive telephone recordings on Android 9 without root rights, as well as record the environment, read correspondence, view photos, be aware of the location of the phone and more. At this point in time, this is the best program for recording calls on Android 9.
How to enable call recording?
If you have full-time recording of conversations on Android 9 itself and it does not work, just turn it off. Now do the following steps:
Step 1. Register on the site
Registration can be done either preliminary on the site, or directly when installing the program on a phone or tablet.
Create a username and password (at least 4 characters, all in English in small letters or numbers). Be sure to remember your username and password - it is under them that you will go to your Personal Account, where records of conversations and other information will come.
Step 2. Download the program
You can download conversation recording for Android 9 for free from the "Download"- there is always the current version of the program.
Step 3. Install and configure the program
For our program for recording calls on Android 9 to work correctly, you need to install and configure it correctly. To do this, on the page "Мanagement»You can download a detailed, picture-based installation guide written in plain language.
Attention! After registration, you are given a free trial period, during which you must check the program's performance on your device.
Step 4. Reboot the device and give it to the controlled
Now you just have to restart your phone or tablet and give it to your controlled (family member, your child or employees). Our program will record calls to Android 9 and forward all collected files to you in your Personal Account.
Step 5. Listen to conversations at your convenience
You can enter your Personal Account from any device with Internet access. Files will be stored exactly 1 month from the moment they are received, then they will be permanently deleted. We have no separate archive.
How does automatic call recording work?
Our program works as follows: on Android 9, the program automatically records the conversation during a call. The recorded file will be transferred to the Personal Account only if the Internet is available. In other words, there is no Internet - the program for recording conversations will do it anyway, and the files with the recording will be saved, as soon as the Internet appears, the files will be automatically transferred to your office.
What if conversations are not recorded?
If the call recording on Android 9 does not work for you, it means that you either have an outdated version of our application installed, or you installed a third-party application that initially has a problem of recording calls. You need to remove the non-working third-party application and install our program for recording calls on Android from the site. the site always has the latest version, adapted for new OSes.
Install VkurSe Call Recorder - stay updated on all conversations!
Do you have any questions? Write to our online consultants!