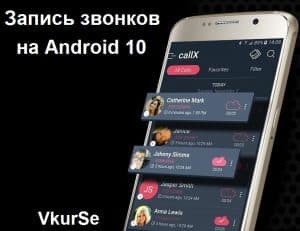 Does not record calls (conversations) on Android 10? Need a work program that would record a conversation during a call automatically? It is necessary to keep important conversations, but on 10-ke it was not possible? What to do?
Why do I need to record conversations on Android 10?
Recording telephone conversations is needed on the child's phone / tablet - Parental control must be complete, and parents must be aware of everything that their child does on their gadget, including with whom and what they are talking about.
Call recording is necessary on the phones of elderly parents who, by the will of fate, live far from you. Call records on 10 Android will allow you to control: who is calling the old people and what they are talking about with him (scammers, black realtors, sellers of miraculous medicines, etc.).
Recording phone calls is mandatory for corporate control if your employees communicate with customers through calls. After all, it is proved that if employees know that they are being monitored, this will significantly increase the efficiency of their work.
The program for wiretapping a VkurSe phone will allow not only to listen to telephone conversations in a recording, but also media files from instant messengers, to see the current coordinates of the phone on the map and the full travel route, view photos, read correspondence, remotely turn on the recorder and more, thus, to maintain full control over the controlled Android (phone or tablet).
Recording conversations on Android 10. The best program.
As you know, problems with recording phone calls on Android 10 really exist. Many programs have simply dropped this feature. But our developers did not give up and released an updated version that allows Android 10 to record a conversation during a call.
We suggest installing our VkurSe program in conjunction with the new Cube ACR call recording module and you will be able to receive:
• phone call recording (even on 10 Android);
• calls from WhatsApp, Viber, Telegram, Facebook and Imo (without Root rights);
• voice messages from WhatsApp and Telegram (without Root rights).
Interested? Of course, because no other program can boast of such capabilities. Sharing details ...
How to install a conversation recording program
In order for the program for recording calls on Android 10 to start recording conversations, you need to do only 5 steps:
Register on the site.
On the page "

Download

»Download a free installation file to the desired smartphone or tablet.
On the page "

Мanagement

»Open / download the manual and correctly install and configure the program on it.
Reboot your phone or tablet.
Go to your personal account and listen to the records of phone calls.
Attention! When you are in the settings of the Cube ACR module itself (you can download it for free directly from within our program) go to the "Recording" section. First of all, you need to check the quality of the call. And when you make a test call, and suddenly there is no sound, then you need to quickly change the recording source for audio calls.
By default, the recording source is set to: Voice communication (software).
We recommend using Voice recognition (software), since when audio recording of the environment is enabled, the default source cannot record the conversation on the phone and displays a notification about it.
Attention! Different recording sources may work for different phone models. In Cube ACR, the setup is not complicated, so before handing over the phone, be sure to check the function for recording quality with ambient recording enabled.
And in conclusion, we would like to draw your attention to the fact that on some models the recording of calls to Android 10 does not work. Therefore, be sure to make sure that the recording of phone calls works correctly on your 10th Android during the free trial period. To do this, try different Cube ACR settings (everything is shown in the pictures in guide).
Install the VkurSe program for recording calls on Android 10 - be aware of all conversations!
Do you have any questions? Write to our online consultants!

You will be interested in:
How to record calls on Android 7
Recording conversations on Android 8