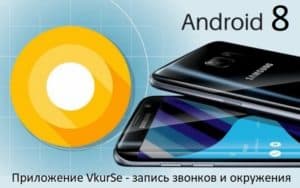 Recording incoming and outgoing calls on Android 8 is one of the functions of our multifunctional application VkurSe, which provides the ability to keep abreast of everything that is done on the Android device on which it will be installed.
Control of Android 8 is one of the unique features of our application. You will be able to control the device on which our application will be installed (phone, laptop, tablet, etc.). You can record, delete and remotely view data using special commands, as well as record an environment without Root rights. You can get acquainted with all the features on the page Capabilities on our website.
Our multifunctional logger application Vkur.Se is:
1. The program for recording calls
Thanks to our application, you can record Android 8 calls and listen to them in MP3 format at a time convenient for you. You will be able to receive lists of incoming and outgoing calls with the caller's number, date and duration of the call, either in text format (.txt) or as an Excel document (.xls).
2. Recording environment (voice recorder)
Our application records the environment through the Android 8 microphone. It is done remotely, a command is sent and the recording time is set (from 1 minute to 12 hours).
3. Control program
You can follow Android 8 for different purposes. By installing our application Vkurse on the device you can:
Be aware of what your child is doing - Parental Controls;
control the calls and movement of elderly parents when there is concern for their health;
round the clock to know the location - Logistics;
be able to remotely lock the device based on time, for example, from 9:00 to 14:00;
android 8 screen recording (screenshots) by time and interval;
View the history of a regular browser, as well as Chrome;
read messages from instant messengers and social networks;
If the device is stolen or lost, remotely clean the SD card;
and much more (see Capabilities).
Now you already realized that in order for Android 8 call recording to start functioning, you need to install our application on this device. Before installation, read the application "How to install the VkurSe app correctly».
Do you have any questions? Write to our online consultants!

Install our VkurSe application on Android 8 - keep abreast of all conversations.