Spy for windows
VkurSe Windows is a spy program for monitoring all actions on a computer running Windows
VkurSe Windows has the most friendly and intuitive interface, even "non-advanced" computer users can easily work with our spyware program for a computer.
Saves all collected data to your computer. Depending on your settings
Able to send you automatically all collected data via the Internet.
Able to secretly monitor the computer and be invisible to the user, so that the user could not remove the program and find it.
Provides the ability to covertly monitor a computer within the network.
Starts automatically with Windows boot
VkurSe Windows PC spyware is simple and easy to use. And it does not require special knowledge in its configuration.
Spyware for Windows computers and laptops
In the spyware program for the VkurSe Windows computer, a different algorithm for generating reports for the user is possible:
☆ Remote access to the user's screen in real time - online tracking of the computer;
☆ Charting statistics of user actions;
☆ Create hidden screenshots during user actions in the form of a slide show;
☆ Creating reports in the form of web pages for easy viewing in a browser;
☆ Ability to save reports on our server, or send them to e-mail in any format convenient for you.
VkurSe Windows also has in its functionality a module for monitoring the keyboard that intercepts and records all the passwords entered on the keyboard ever.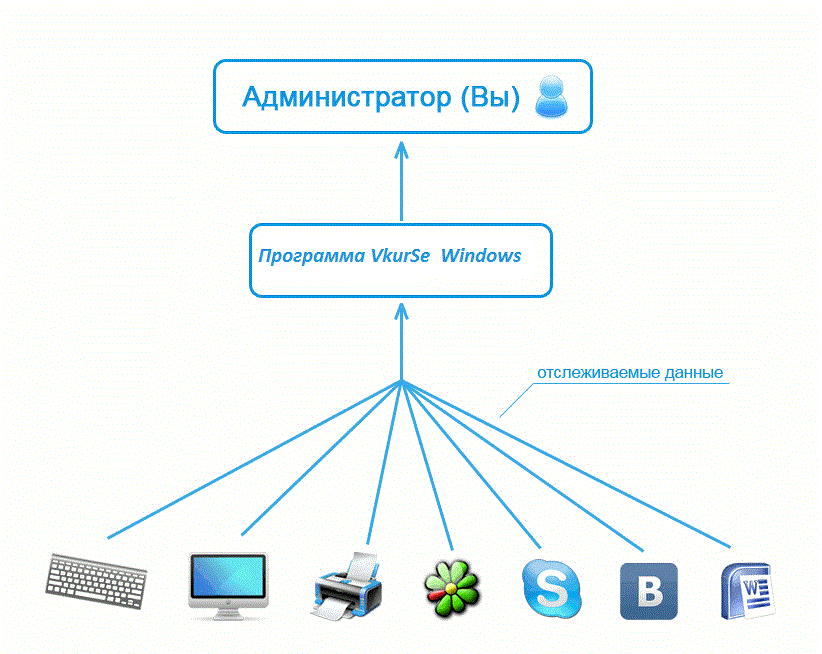 Tariff plans
The perpetual cost of a license for 1 computer is 2890 r
The cost of a license for 2 or more computers implies a discount of 20% to 25% depending on the number of licenses
COST ON ONLINE SUBSCRIPTION (possibility of remote monitoring)