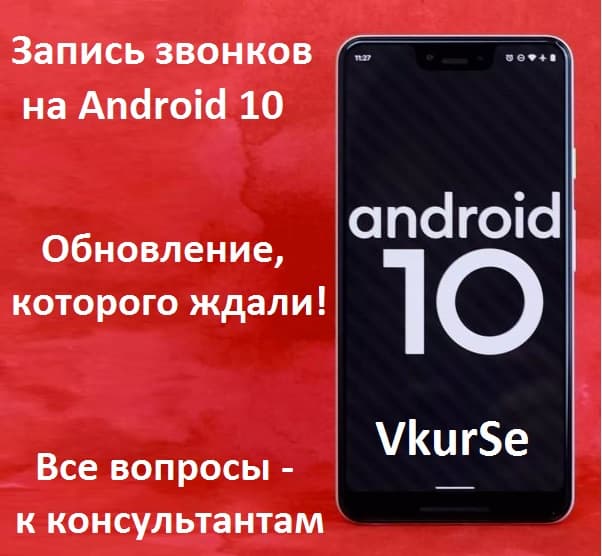 Meet the update from VkurSe, which will allow you to write not only full-fledged phone calls on Android 9 and 10, but also calls from instant messengers without Root rights! Now absolutely all calls can be recorded! You just have to update the program and install a new module for recording.
You have waited so long and sincerely believed in us, and we did not let you down! We were able to solve a real problem with call recording on Android 10, which still remained unresolved for many developers. We have combined our program with the CUBE ACR recording module.
After installing a new module for recording calls, you can receive:
recording telephone conversations (even on 10 Android);
recording calls made via WhatsApp, Viber, Telegram, Facebook and Imo (without Root rights);
voice messages from WhatsApp and Telegram (without Root rights).
Attention! Before you start installing the new CUBE ACR module, you must MANDATORY remove already installed module "Carrier additions".
How to do it: go to the settings of the phone itself (gear) - Applications - Carrier additions - delete.
You can download and configure the new module from the settings of our updated application - the "CUBE ACR Settings" button - it is written in great detail in our leadership
If the phone already has the CUBE ACR program, then VkurSe will automatically join it, the main condition is that the folder for recordings must be standard. And you just have to remove the previously installed Carrier additions module.
Attention! After installing the app BE SURE TO RESTART YOUR PHONE, even if you did not install the entire application as a whole, but only the Cube ACR call module.
The free version of Cube will provide the ability to record the above calls. To avoid unnecessary notifications from this program and to be able to hide its icon, you will need to buy a key (license) for premium access in your account - $ 15 per year (will be available soon). If you have already purchased this program, you do not need to buy anything extra. Also, everything will work fine without a purchase, but it is possible that a recording widget will appear on some devices during a call.
Major updates of the new version 6.1.3-305:
Improved compatibility with Android 10
Fixed problems with registration from the application
Fixed interception of messages for new versions of Telegram, Whatsapp, Facebook, Vkontakte (root)
Improved the stability of taking screenshots via (root)
Fixed errors when sending commands via FCM
Removed some commands for Android 4 and below
Fixed the work of some commands, as well as the issuance of more correct answers in the absence of the necessary modules (sms, root)
Added Yandex Messenger to intercept messages (root)
Implemented integration with Cube ACR to intercept calls
PS Expect a grandiose update of the Personal Account and the Client soon!
We are glad to cooperate with you! Indeed, with our VkurSe service, you are always aware of absolutely all actions on your devices!
If you have any questions - write to our online support (from 07.00 am to 02.00 am Moscow time).