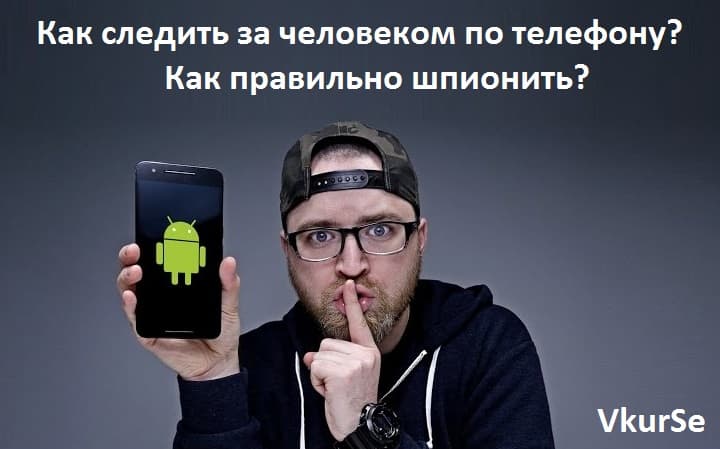 Today we will learn how to properly spy on and follow a person on the phone so that he does not know about it. We will describe the different types of surveillance and learn how to discreetly monitor a person through his smartphone. We will also instruct you on how to properly monitor Android through Android, iPhone, laptop or computer.
What is surveillance
Shooting Is a covert observation that helps to find out about a person what he is trying to hide. Previously, the word "surveillance" meant only "surveillance". All of us from spy films are familiar with such concepts as "tail" and "outdoor" - these are methods of surveillance of police and agents.
Classic outdoor surveillance can be "hidden" and "encrypted". Covert surveillance is when the "follower" diligently hides his presence. And encrypted surveillance is when the "follower" is directly near the "victim". He monitors and transmits data, but the "victim" does not understand that she is being watched, and takes the "follower" for a person who simply must be there.
However, we want to focus on a completely different surveillance that can be organized independently, without the involvement of internal organs, operatives and detective agencies - this is specialized programs for spying on the phonewhich can be downloaded from their official websites.
Warning! Before you start spying on a person, you should know that any covert surveillance (with the exception of surveillance, which is agreed with the competent authorities) is illegal.
Types of surveillance
So, you want to know how to spy on a person correctly? What for? Honestly, we don't care - it's your own business. Everyone has their own good reasons. We have warned you that it is illegal, and it's up to you whether to follow or not follow. We will simply describe the types of surveillance.
Types of surveillance for self-tracking:
Tracking through a video camera - monitors only in a certain area. If a person has left the field of view of the camera, the information is zero.
Tracking with a private detective - short-lived (the terms are always stipulated), one-time (did the job, the surveillance ended) and very expensive (the services of private detectives maneuver between $ 500 and several thousand per order).
Close inspection of things - you need to constantly look closely, sniff, notice.
Spying on a man through his phone - this is either the services of operators, or you just need to install the tracking program once, so that it sends you around the clock the location of the person, all his actions on the phone, on the Internet, etc.
Every year, tracking software becomes even clearer, faster to install and more accessible.
Types of observation of a person through the phone:
Open threat: "I'm watching you!" - this one is more suitable for enemies.
Hidden threat: "I will still find out everything about you" - this is for lovers or those who are suspected of betraying their spouses.
Caring surveillance: "What does he do, who he talks to, where he walks" - this is more suitable for parents, especially teenagers.
Corporate surveillance: "I need to know what my employees are doing" - this control over employees through their work devices is necessary for managers.
As you can see, surveillance is needed and in demand - this is not a spy game or some super-difficult task that can only be done by programmers or hackers. Surveillance of a person through the telephone does exist and is quite easy to implement.
How to properly follow a person on the phone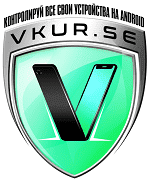 Now we will find out how you can follow a person by phone. After all, this is actually not as difficult as it seems. It is really possible and accessible to literally everyone.
So, how to follow a person on the phone:
Step 1. Necessary free download program VkurSe.
Step 2. To install the program to the controlled phone "Monitor this device" (installation will take 10 minutes).
Step 3. Install "Client" on your phone "Track from this device" (installation will take 2 minutes)
Everything! You don't need to do anything else! Now you can discreetly monitor the person.
We answer the most common questions about how to track someone else's phone from your phone.
Can you follow someone else's Android from your Android?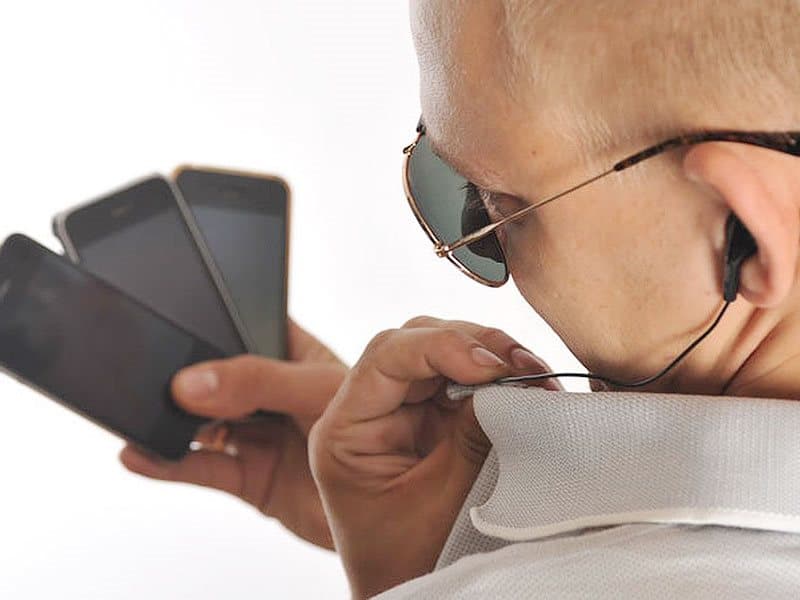 Yes, you can. As we wrote just above, you must first install the program on the controlled phone. And in order for you to be able to follow a person from your Android phone, you just need to install the "Client" on your phone - download the program to your phone and select "Track from this device". Now all data from the controlled phone will be sent directly to your phone!
After installing the VkurSe program, you will have access to:
recording calls and voice messages;
phone location and full travel route;
correspondence from the most famous social networks and messengers;
screenshots of the phone screen;
keyboard interception;
on command to record the environment;
take a photo from the camera on command;
clear the phone memory on command (if the phone was stolen);
turn on the alarm (if the phone is lost);
receive notifications;
see the list of contacts in the phone book;
see saved photos;
and much more.
Since it is really possible to monitor a person through his mobile phone, then you must remember about the law, which may not be on your side, if you want to do it secretly and unnoticed.
Can you follow Android from iPhone?
Yes, you can. If you have an IPhone or an iPad, then YOU can still spy on the controlled Android. You will need to go to the site from your iPhone, enter your username and password and go to your account. There will be all the information that the program will intercept for you. It will also be possible to send commands from the office, make settings and much more.
How to track an iPhone from Android?
Programs that run on the iOS operating system are different from programs that run on Android. Therefore, before you can track an iPhone, you will need to find an IPhone tracking program on the Internet.
How to properly follow a person through a computer?
After you install the VkurSe program on the phone you want to monitor, go to our website from your computer. Just enter your username / password - an account will open. There, in the "Data" tabs, there will be all intercepted information.
How to properly follow a person through a laptop?
A laptop, like a computer, allows you to monitor your mobile through the office. There is no difference between spying on your phone from your computer and laptop.
Conclusion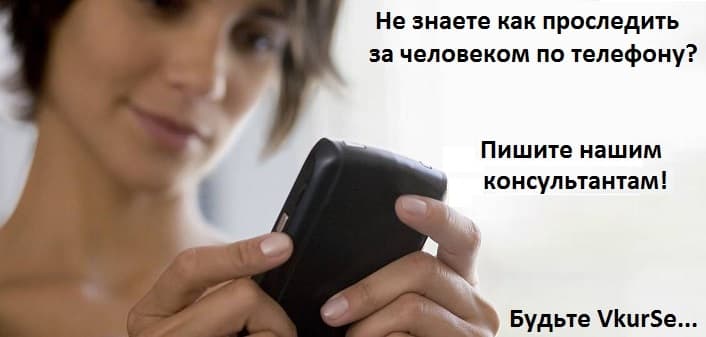 Now you know how to properly follow a person through his Android mobile phone - install the VkurSe program there. If you also have Android, then you can install on your "Client" and follow someone else's phone from your phone. It is convenient and reliable! Try it, because there is a free trial period! If you don't like it, just delete it and that's it!
Still have questions? Write to our online consultants!