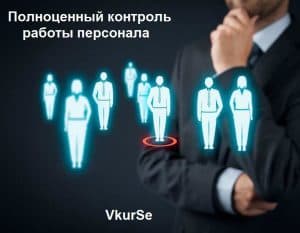 Full control over the work of personnel (office, mobile, remote). Ready-made solution for companies. Profitable cooperation. Free consultation. Tracking program for working devices.
Personnel control is a complex multi-stage process consisting of functions integrated into a single system and achieving a common goal - to increase the efficiency and safety of production.
Effective staff monitoring methods
There are various methods:
Turnstiles - carry out the mark of the arrival / departure of personnel from work on passes. Suitable for organizations with a large number of workers, where the start time is especially important.
Biometric systems - mark the arrival / departure of personnel from work on a fingerprint, pattern of the retina or face photo. Very reliable and expensive method.
Camcorders - carry out internal filming of the work of staff through online video surveillance and recording what is happening. There are strict restrictions when choosing camera installation locations.
Specialized software - monitors the work of personnel through work devices (telephones, tablets, computers and laptops). Huge functionality allows truly full control.
We offer you the most complete and objective method of effective monitoring of personnel work - installing specialized software on work devices from the VkurSe service.
Monitoring the performance of work by personnel via phones
Remote management of personnel work through phones from VkurSe service will allow the head:
see current coordinates (by command and interval);
employee movement per day, week, month (full route);
Receive telephone conversations with clients
receive details of all calls;
read staff correspondence with clients;
monitor photos;
remotely enable recording of the environment (voice recorder);
monitor correspondence in instant messengers and social networks;
Monitor web browser history
remotely block sites and applications;
Monitor applications and internal phone folders;
and much more.
That not break the law, in the program settings you can disable the recording of calls from numbers that are not related to work (home, parents, children, spouses, etc.). And also put restrictions on the interception of correspondence from instant messengers that are not related to work.
Organization and monitoring of staff work
With the help of our VkurSe program, you will be able to organize staff work control in 1 day.
Step 1. You tell us you want to lead corporate internal employee tracking. We provide you with our offer and open a group in Telegram (all prices on the site are for personal use only).
Step 2. You drop your logo and name with the file. We provide a program with your attributes + a dedicated server for your project + your personal admin panel for convenient work with classrooms.
Step 3. Distribute gadgets to staff, be sure to warn them that corporate control of phones is ongoing.
When connecting a large number of devices, discounts are possible.
Monitoring the work of staff at the computer
If you want to organize monitoring of the work of personnel through computers, then you will need install VkurSe Windows on working PCs.
Full control over the work of personnel through computers is:
monitoring correspondence in all known instant messengers;
monitoring of user installed programs;
monitoring system folders;
monitoring of internet connection and disconnection;
monitoring of USB-drives (saves files copied to a USB flash drive);
interception of keystrokes (keylogger);
monitoring print documents and tracking printers;
collecting data about running programs;
viewing the user's screen in real time;
remote access to the desktop via the Internet;
and much more.
Monitoring personnel through computers is a legitimate monitoring of the activities of employees, this is not in dispute and this is a fact. At first glance, this may look like unreasonable surveillance and mistrust of employees by the authorities. In fact, this is a very reasonable organization of labor, bringing real results, economy and safety.
Summarizing all of the above, I would like to emphasize that the basic principles of organizing the monitoring of personnel work are: 1) Installing special VkurSe software on working devices; 2) Timely notification of personnel about the installed program; and 3) Setting restrictions on recording personal conversations and correspondence.
All your questions will be answered in detail by our consultants.