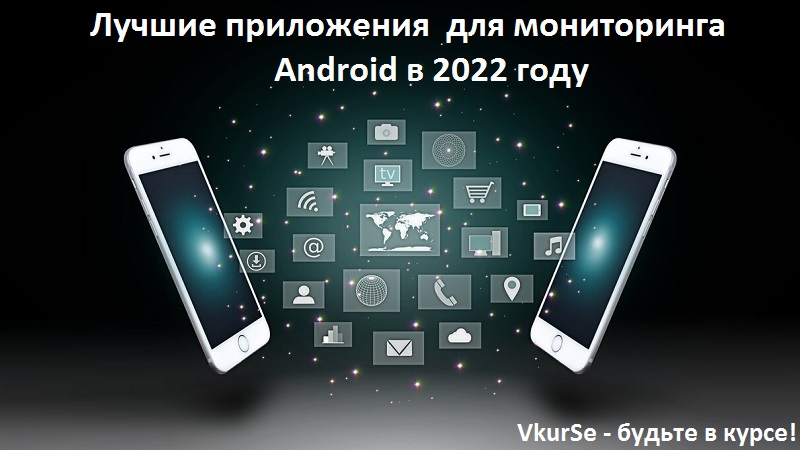 Monitoring software for Android 2022 - You will get more than you expect! You will be able to track calls, correspondence, location, photos, keyboard and much more. Monitoring Android devices is a complete control over all installed applications.
Today we will find out what monitoring programs for Android are, what they do and what is their difference. And why the VkurSe program is the best among similar software and has been very popular among users for more than 7 years. So, let's begin…
TOP 6 best Android monitoring software 2022
1. Multifunctional program VkurSe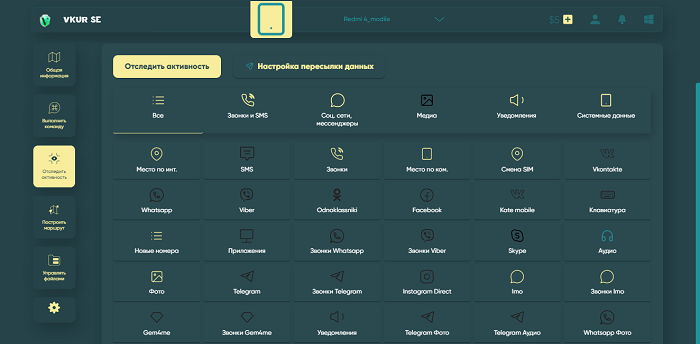 Opens our review, VkurSe service - full monitoring of the Android phone (completely Russian-language software). It will allow you to track not only the applications installed on the phone, but also see what they write about, what they are listening to, who they are talking to, what they are sending and where they go with their smartphone.
VkurSe service is:
child's phone monitoring (full-fledged parental control);
excellent anti-theft;
convenient archiver;
Internet monitoring (browser history, blocking Internet applications);
view of keystrokes;
log of all incoming, outgoing and missed calls;
call monitoring (recording of all telephone, voice and Internet conversations);
viewing photos in the gallery;
monitoring of all installed applications on the phone (viewing internal folders);
remote removal of applications, photos and complete cleaning of memory;
remote activation of sound recording (dictaphone);
remote reboot of the device;
Android screen monitoring (automatic screenshots);
and much more.
This is such a huge number of functions that the Android phone monitoring program VkurSe has.
Is it hard to believe? Install and check for yourself! Installation is free, download the application for free can be on the website. How to set up monitoring on the phone in detail described in the manual... And all-knowing consultants will answer all your questions, right online.
2. The program "Your Phone Addiction Tracker and Controller" (your hour)
This telephone addiction controller will allow you to increase the productivity of your working day by disabling all "unnecessary" distracting applications on your smartphone. He himself keeps track of the Android screen time and how many people "climb" the Internet, are on social networks and "chat" on messengers.
The program for monitoring your Android phone "Your Hour" will allow you to:
limit the time spent in applications;
block the entrance to applications;
automatically block applications at a specific time.
In other words, monitoring Android devices using the Your Hour service will help you find applications on your phone that distract a person from work. A person spends a huge amount of time on these applications, and does not have time to do his job, from which he himself suffers greatly.
Smart monitoring Android "Phone Addiction Controller and Mobile Usage Tracker" will allow you to disable such interfering applications. Ideal for students, freelancers and remote workers who do not have tight working hours and a strict manager who can control the work process.
3.System Monitor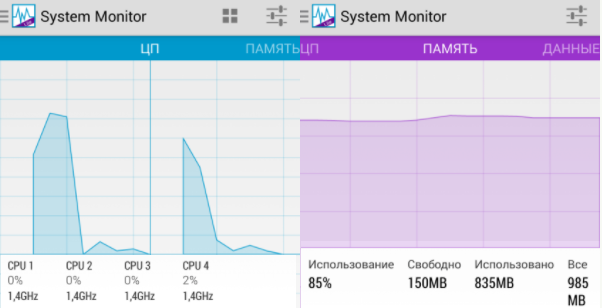 Of course, the list of the best could not fail to include an application for monitoring a phone on Android OS - System Monitor (from the developer Christian Göllner). Convenient and beautiful animation provides complete information about the operation of the system of your phone or tablet. It is possible to view data in Russian.
Android monitoring is divided into convenient tabs that any user can easily understand. When the phone is charging, System Monitor will analyze and provide a forecast. And on the charts, you can clearly see what you have been doing all day, and draw the necessary conclusions for yourself.
4. App Usage - Management / Tracking
Our TOP-5 "Best programs for monitoring Android devices of 2022" is continued by the App Usage program. It will allow you to track a person's activities when he is on the Internet. Has the following functions:
phone history (daily report);
how many times this or that application has been opened;
how long it took for the applications;
list of frequently used applications;
monitoring the installation of applications on the device;
remote wipe / uninstall of apps, data and cache.
A huge disadvantage is that you have to watch ads. Small minus - this monitoring of Android applications works only when the screen is on. Recommended for controlling your gaming time and spending time on social networks.
5.OS Monitor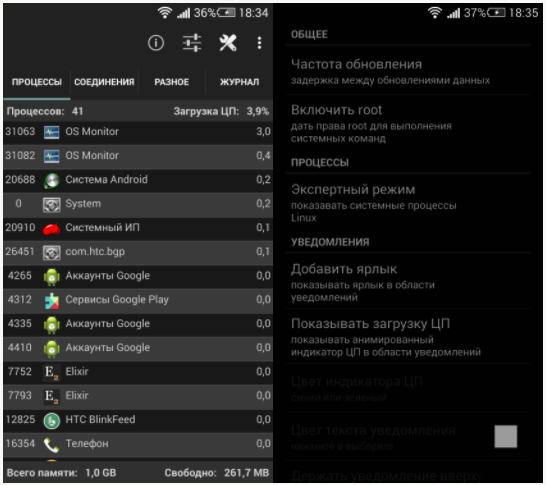 If you want to install a free monitoring application on your Android phone, then the OS Monitor program (from the developer Eolwral) is best suited for this. There is nothing superfluous, everything is short and laconic. Has 4 tabs:
Processes - all running processes, load in%.
Journal - a list of events taking place on the phone or tablet per day.
Connections - Shows all Internet connections (protocol), as well as the local or external IP address.
Miscellaneous - Various characteristics of the system are displayed.
Ideal for those who just need to know about all Internet connections and activities on the Internet that are performed on this device.
6 Elixir 2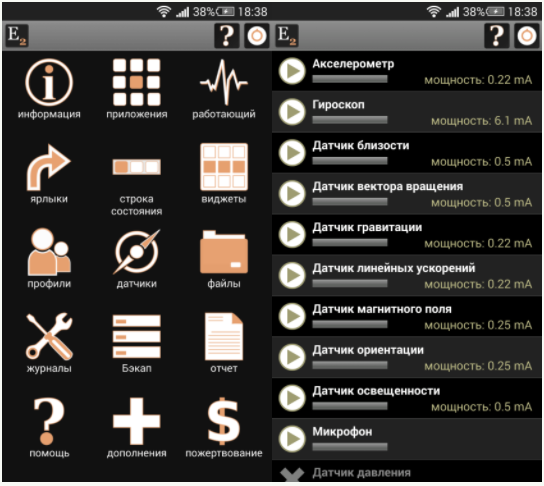 Closes our review of the best Android phone monitoring applications - Elixir 2. A rather complex, but very informative application that allows you to fully control all human actions on your gadget:
shows the temperature of the battery;
analyzes free space of internal and external memory (drive);
shows the load of the processor and memory;
evaluates the quality of the network;
shows the speed of connection to WI-FI;
detailed information on the state of NFC / Bluetooth;
provides the coordinates of the device;
complete information about all installed software;
checking the operation of sensors that are built into the device;
and much more.
In addition, this program for monitoring the phone has the ability to install widgets on the desktop and control the notifications section. It is inferior to the VkurSe program in that it does not provide the ability to track correspondence and calls. The rest is up to par.
Conclusion
So, let's summarize. If you need full control over your phones, which will show absolutely all actions (calls, SMS, photos, installed software, how long you have been surfing the Internet and where, etc.), then this is, of course, the VkurSe program. This Android monitoring can be downloaded for free directly from the site.
If you prefer small functionality, but free online phone monitoring, then the OS Monitor program will suit you.
In any case, it's up to you to decide. We have just selected the best 6 Android monitoring programs for you. All of them deserve your attention and are time-tested high-quality software.
Our consultants will answer all your questions!